https://www.youtube.com/watch?v=Kx83AFHL33Q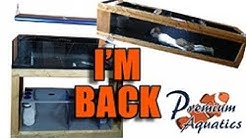 We're starting a new series here at Premium Aquatics!
Luke will be setting up this 80 gallon breeder and sharing the good, the bad, and the ugly with you! Hopefully more good than the others!
Make sure to subscribe and hit that bell to be the first to see the new content coming out!
_________________
Morgan - Premium Aquatics Multi-Media Communications Specialist
My email:
forums@premiumaquatics.com